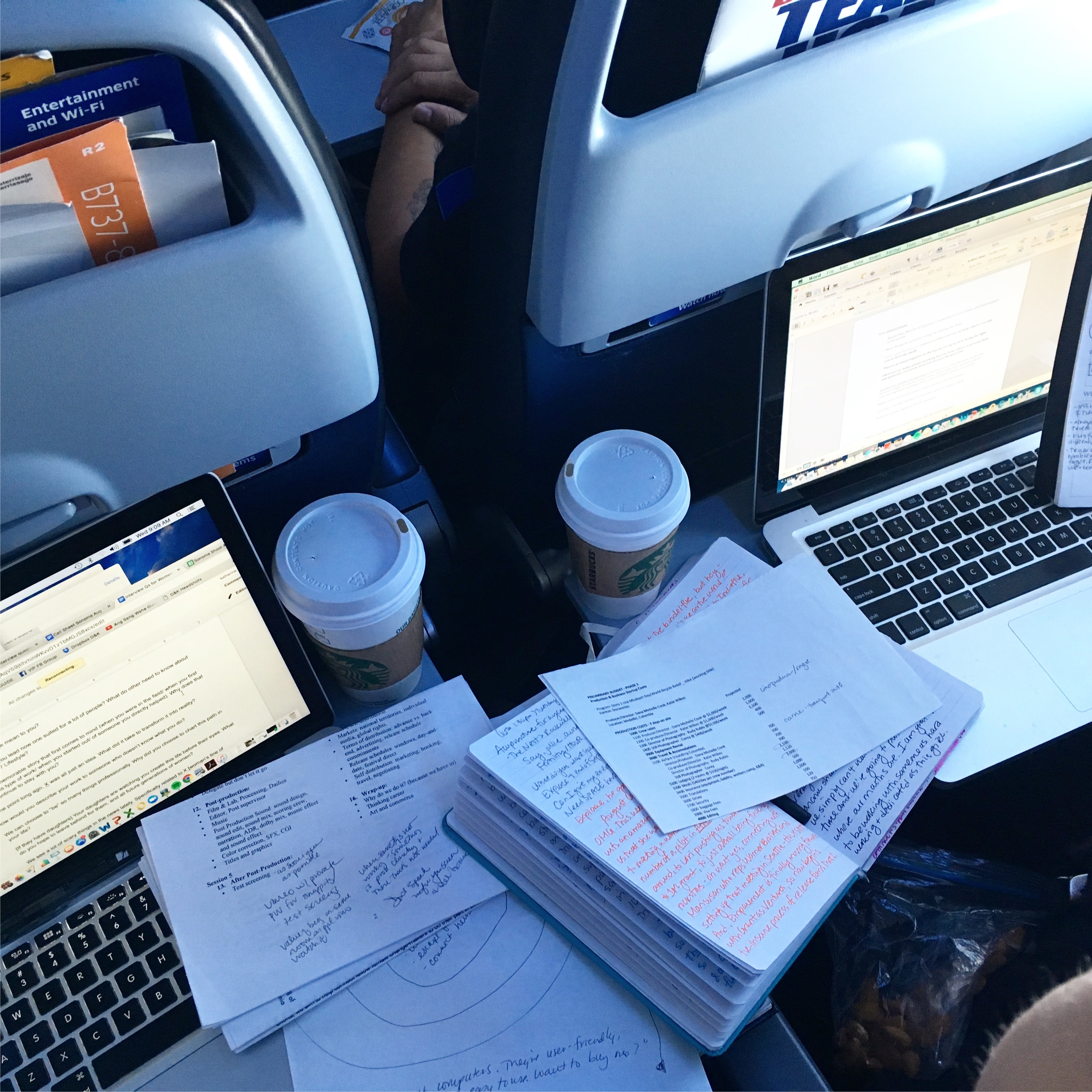 Entry Upon Arrival
Planes. Cameras. Visas. Journals. Microphones. Courage. A whole lot of ambition. And people like you.
That's our world lately, and we're about to take you on a ride for much more.
Katie Wilkes and Dana Michelle Cook here – co-founders of this endeavor we're calling Freeheart Creative, which began just a few short months ago.
Let's back up for a second.
When we met each other last fall in Chicago at a conference filled with ambitious women, we knew big plans were already in the making. Our experiences as filmmakers, writers, marketers and humanitarians were a match this world could benefit from. (We were also killing it in dance party yoga at the time – a sure sign.)
I – Katie – lived a parallel life the first six years after graduating DePaul University. My "9 to 5s" were spent at advertising and PR firms. Meanwhile, my weekends, holidays, and allotted vacation time planted me in the field as an American Red Cross volunteer.
In between my billable hours, I deployed to hurricanes, wildfires, tornadoes, and floods around the country as a spokesperson telling stories of hope and recovery from the ground. Eventually I was hired in Geneva, Switzerland and contributed to the Ebola Virus Disease epidemic response.
I met resilient humans time after time. I learned that, when stripped down bare to our core with nothing left to hide, we're actually all made from the same stuff.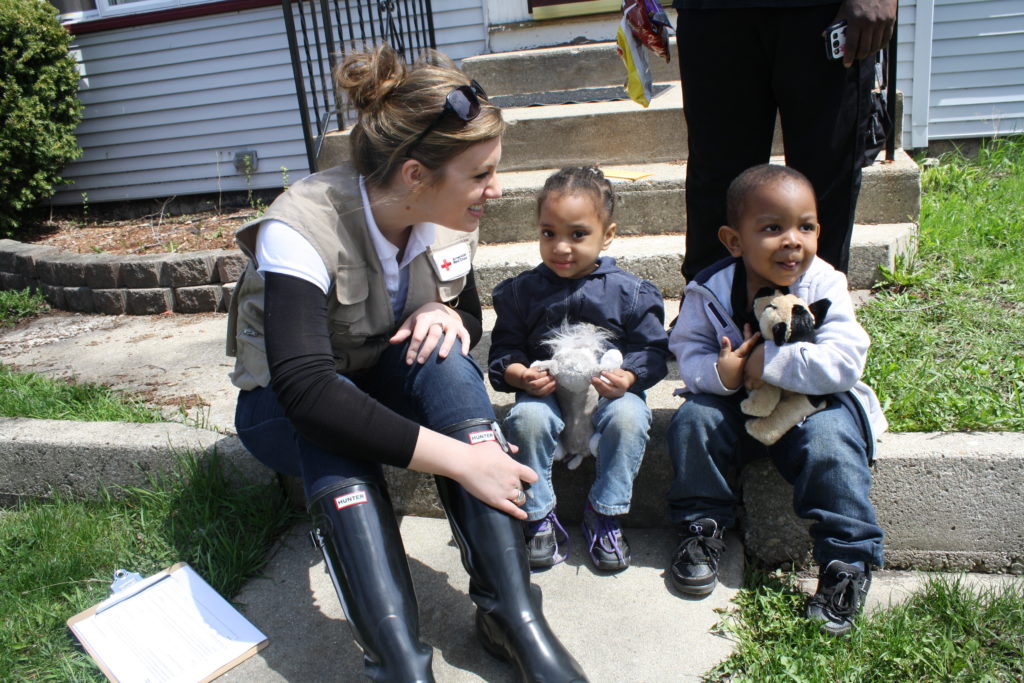 And I – Dana – worked as a field producer in reality TV for nearly 10 years. I became burnt out, fed up, and disillusioned with how the 'Hollywood machine' was often failing women both in front of and behind the camera.
As a content creator, I knew I had a responsibility to show the next generation of strong men and women that they could make a difference telling uplifting stories that were still real.
In 2013, I co-created a feature-length documentary called The Empowerment Project, which follows five female filmmakers (myself included) driving across America encouraging the next generation of strong women to go after their highest career dreams. And soon after, I went on to gain a new friend named Emmy (yes…the statue).
At the end of the day, I've seen how we are "more alike than unlike" (shout-out to Maya Angelou for that phrase). We need to continue telling these stories of hope to connect us.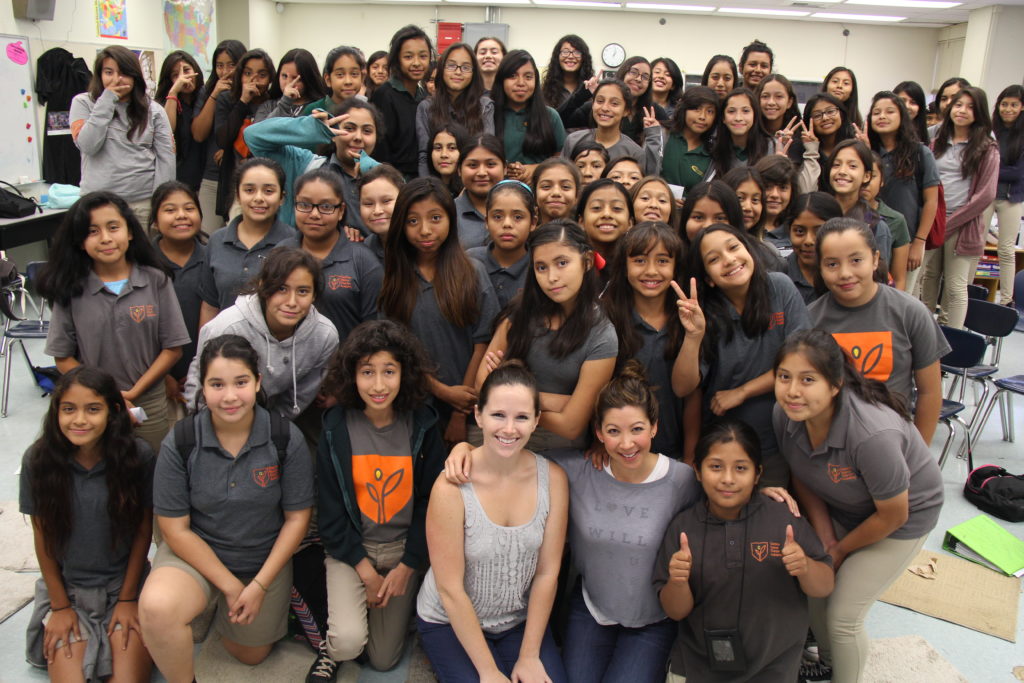 So here we are, both having left the safety net our full-time steady-salaried lives provided. We're taking those lessons and moments with us as we embark on a new adventure, full heart-throttle ahead.
So what is this dream?
We've seen the stories that make our heads turn because they are so remarkable, so real. But there's a problem: they're often covered up by speculations of fear-inducing headlines that paralyze us.
That's not what we need. We need inspiration to help us act out of a place of connection and understanding.
When it comes down to it, we can't not share these stories with you.
For every heartbreaking and scary image gracing your screens, there are a thousand hopeful ones happening around the world every day.
We're on a mission to bring you into this illuminated life we have seen and breathed. One that shows us what incredible solutions can form when we choose to keep going, tuning into our intuition to help make a difference.
Our first big project is one that requires lots of shots, imagination, and adrenaline.
Over the next year, via a documentary series, you'll see us capturing the lives of women who have transformed pain and overcome challenges to build unimaginable solutions out of crisis and disaster. They are the light in the often darkened corners of the world. They shine their hope, optimism, and unreal determination where it's needed most. And they're not afraid to keep going.
Oh, and there's one other thing. We've never done this before. On this scale. With this many eyes. We're 100% learning as we go.
And YOU are the most critical part of it. Because – believe us – the experience doesn't stop after the camera stops and the pens are put down.
'Freeheart' is a nod to how we both feel doing this thing we now get to call "work." The grounds are wide, our souls are daring, and our limits are to be determined. We both know that hearts – including yours – in every corner of this world deserve a breath of fresh air.
You deserve to know these stories of truth and hope, and YOU deserve to feel inspired to become a part of the world's solutions in your own individual way.
This space will be filled with our own accounts of this journey across countries, and in our makeshift offices, at all hours of the day. But we'll also introduce you to the people we've met, and continue to meet, along the way. The communities rising above. The leaders making it happen. And the thriving part of this world built by human hands, voices, and courage.
In between the airplane rides, we'll help you open your minds and hearts to what you can't always see – but what we know is there. Even if it's from your couch.
We don't always know where we will end up, but if the past few months have said anything, it's that there's a heck of a ride ahead.
Ready to come with us?
XO,
Katie & Dana
PS. Don't leave your passport behind! Tag along with us @freeheartcreative on Instagram.